Local Map
Yes, there is a Yelapa map! And it's done with love and devotion by Mapa Jeff. He shows the streets as they lay in the folds of land. The monuments, the churches, the landmarks. The pedestrian ins and outs, above all. Stairways, paths and footbridges. But no commercial tie-ins, no ads, no paid listings, and no sponsors. Just the facts, as gathered in person by one artist & researcher.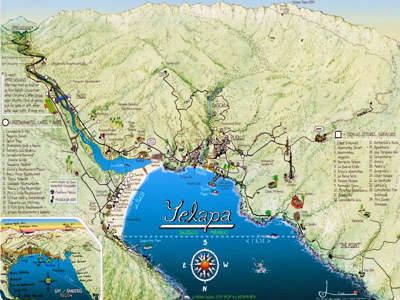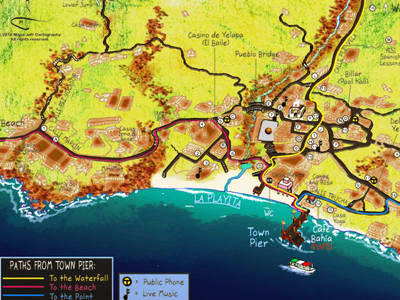 No amount of high-resolution satellite imagery, nor even images from street level, can substitute for the interpretation and authorship of a real human being who has actually been there.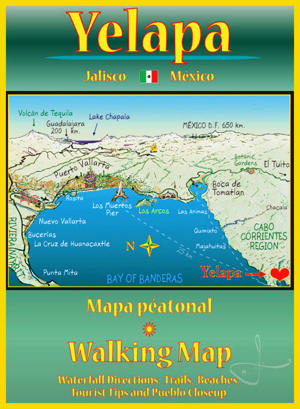 14" x 20", folded up to a portable 5" x 7", shipped in the US, $10 USD. Also available as a poster.
Side A - The cove and mountains. Side B - A map of the pueblo with locator for businesses & restaurants, tips for visitors, and a third map depicting the entire Rio Tuito basin up to the upper waterfall. (Includes instructions on how to get there!)
ABOUT
MAPA JEFF
His real identity is unknown, but legend has it he is Jeffrey Obser, a former journalist and editor who moonlights as a performing bar-band musician. He was nicknamed Mapa Jeff in Yelapa in 2005, after drawing a 3D panoramic map of our pedestrian-only hideaway. It is now in its 11th edition (2018).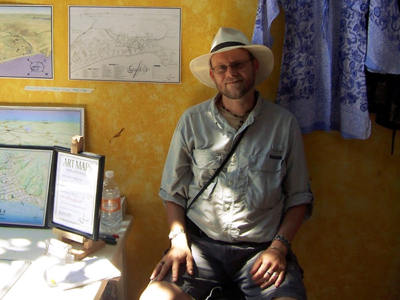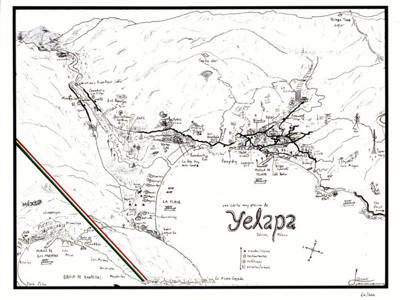 © 2018-2021 Cheryl Harleston All rights reserved
All content included in this site —such as text, graphics, logos, and information architecture— is the exclusive property of Cheryl Harleston and/or her content providers, and is protected by international copyright laws. Any unauthorized reproduction by any means of any portion of this website will constitute an infringement of copyright.